Partners
Signature of a Memorandum between the CCI and GalaxyGroup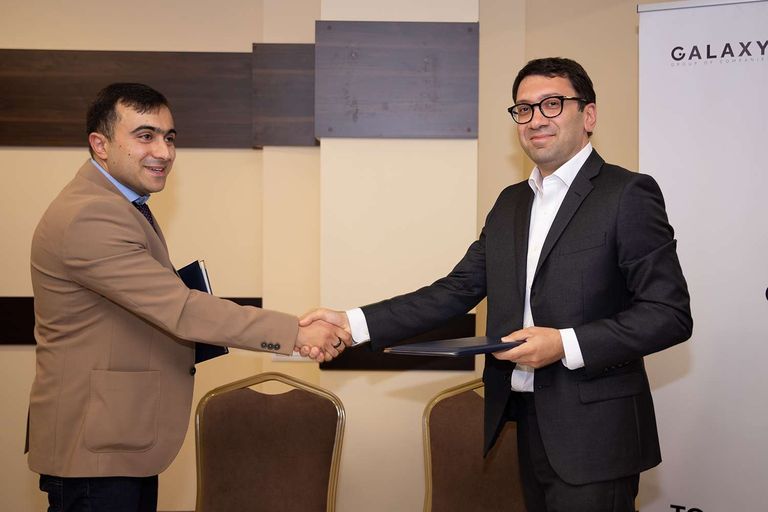 This Friday, June 3, the Memorandum between CCI France Armenia and Galaxy Group was signed.
Tigran Arakelian, President of the CCI France Armenia, speaks:
"Galaxy Group is one of those companies that are models of success, know-how and value creation, which Armenia badly needs. Galaxy Group is also a competent management and team that masters and understands the challenges of tomorrow in the context of globalization.
We are therefore pleased to have the Galaxy Group as a member of the French Chamber of Commerce and Industry for one year now.
I would like to welcome the upcoming installation of Paul bakeries in Armenia by the Galaxy group. Paul represents the excellence and the French know-how in the field of bakery/pastry and I am sure that the Galaxy group will be able to defend the colors of this French brand in Armenia.
Within the framework of the Memorandum signed today, our cooperation with Galaxy Group will be strengthened in particular in the exchange of information, support for the development and distribution of French brands and trade names in the Armenian market".
The event was attended by members of the CCI France Armenia, including Hakob Andreasyan CEO of ACBA Bank, Vachagan Karapetyan CEO of Artfood Cannery, Karen Chakhmouradian, owner of Renault Armenia, Vache Arsen director of ArLeAM (subsidiary of SoftConstruct), representatives of Amundi and Grant Thornton, Sevag Djidjirian director of Texas Production, representatives of the French Embassy in Armenia, including Consul Thibaut Nonier, Florence Provendier French deputy, and Gohar Harutyunyan president of the Cultural Foundation "Miss Armenia".