France in Armenia
The French economic presence in Armenia is progressing every year. French companies with worldwide reputations come to settle in a country where among the main factors of attraction one finds the obvious peospects of an emerging market.
The emergence of infrastructure developement, highly competitive labor costs, a good level of education and an entrepreneurial spirit are major assets in the country.
In addition, the historical ties united France and Armenia for over 100 years are reflected in a very positive image of France and the French in Armenia. Since independence of Armenia in the 1990s, more than 100 French companies have been established in Armenia.
Among the largest establishments playing a significant role in the country's economy are Yerevan Brandy Company (Pernod Ricard), ACBA Bank (Credit Agricole), Grant Thornton, Veolia, Amundi and many others.
The total volume of bilateral trade in 2018 reached EUR 82 million. French exports to Armenia reached EUR 68 million, up 66 % compared to 2017, the best result recorded in 2008 (EUR 84,3 million). Imports from Armenia followed the same trend, reaching the level of EUR 12 million (+38% compared to 2017).
The trade balance between France and Armenia continues to show a surplus balance in favor of France in 2018, which grew by +70% compared to 2017, to EUR 58 million.
With a market share of around 2% in 2019, France remains a second-tier commercial supplier for Armenia, according to official statistics, dehind in particular Russia (24.3%), the EU(21.6%), China (9%), Germany (6.2%), Ukraine (5%), Turkey (5%), Iran (4%), Switzerland (4%), the United States (3%), Japan or Brazil (2%).
However, France is, after Russia, the second foreign investor in Armenia since 2016 with an FDI stock of around $380million in 2018.
In 2018, France mainly exported metal products, equipment and machine tools for 37.5% of total exports, an increase of 170% compared to the previous year. The second largest item remains that of chemicals and perfumes with a share of 14.3% in 2018 and a slight growth to 15.2% in 1H2019. The third item of our exports, traditionally occupied by industrial and agricultural machinery, was taken by transport equipment in 1H2019 with an 11% share of the total through the sale of an aircraft. With €4.6M in 2018, our sales of agro-industrial products represent 6.7% of total exports, an increase of 17% compared to 2018.
Purchases mainly consist of industrial products (€ 12M or 86%), mainly metallurgical and metal industrial products (€10.2M) and growing by + 50% over the first half of 2019.
Armenia benefits from public funding from France: AFD and its subsidiary Proparco have been involved in Armenia since 2012. AFD finances the renovation of housing and the improvement of their energy performance. Proparco finances SMEs in the food industry and agriculture.
France supports Armenia in the chapitre of the reciprocal protection of geographical indications (GIs) of the CEPA agreement which provides particularly for the cessation of the name «Cognac» in Armenia.
Franco-Armenian relations are also dense in terms of cultural and tecnical cooperation. Since 4 November 1995, there has been an intergovernmental cultural, scientific and technical cooperation agreement between France and Armenia. The priorities of France in Armenia are the teaching of French and the training of elites, particularly through the French University in Armenia which hosts more than 2,500 students per year for training in law, commerce and managment, sanctioned by a double – French and Armenian diploma, in partnershio with the University of Lyon III.
France also supports various cultural events such as film, comic strip and animated film festivals, the francophonie week and the music festival.
Decentralized cooperation is very dynamic. Twenty French local authorities are involved in twinning and cooperation projects with Armenia, in extremely varied fields (tourism, health …)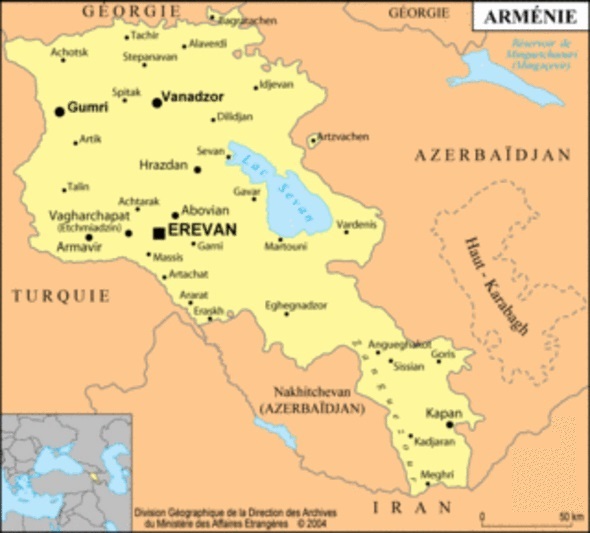 The mission of CCI France Armenia is particularly to inform French companies wishing to invest or trade with Armenia.
Download notre fiche Pays 2021 (FR) and find the main information on Armenia (key figures, growth sectors, business climate …).